< Hexadecimal App
Remote Keyboard FREE

$1.99
Now you can use Hexadecimal as more than just a keyboard for your iPhone or iPad - you can use it as a hexadecimal/decimal keypad for your Mac too! Available as an in-app purchase, the Remote Keyboard upgrade helps speed up your work on your Mac, just as it normally does on your iOS device.
The remote keyboard looks similar to the iOS keyboard and can use all of the same themes.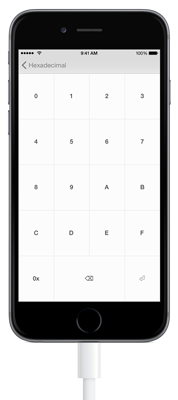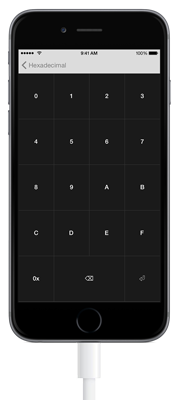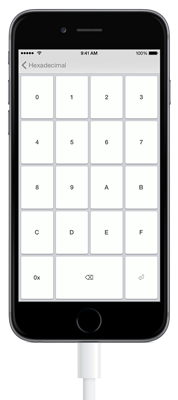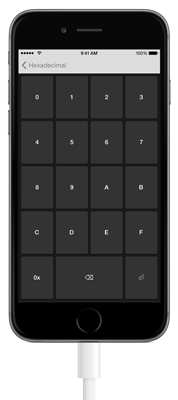 To switch between hexadecimal and decimal modes, press the "(10)" / "(16)" button in the top right corner. The decimal keypad comes with a keyboard layout (789 on top) and a phone layout (123 on top), which can be changed, along with the theme, in the Settings menu.
The remote keyboard can be used with any Mac running the free HexConnect software. HexConnect is a small program that runs in your Mac's menu bar. When you connect your iOS device to your Mac via USB and open up the remote keyboard, the HexConnect icon will change color, showing that the connection has been established. You can then press the hex keys just like the ones on your Mac keyboard. We chose to make the keyboard wired for a number of reasons, most notably for speed and security. There is almost no time delay from when you press the key to when the character shows up on your screen.
We take security seriously and are dedicated to making sure that Hexadecimal and HexConnect are as secure as they can be. Using a wired connection keeps your keyboard data off of the network, removing all outside connections and providing a direct link between Hexadecimal and HexConnect. Your data goes nowhere except between your devices. Though we do collect minimal analytics data to ensure our users are getting the best experience, we never see anything you type. See our privacy policy for more details.

HexConnect 1.0.0
You can download the latest version of HexConnect for free via the link on to the right. We recommend always using the latest version of both Hexadecimal and HexConnect to ensure the highest possible compatibility and security. We are constantly adding new features and would love to hear your feedback and/or suggestions.
To unlock the remote keyboard, press the "Remote" button on the main screen and select "Unlock Now."